Customer Reviews
The best pants for working out while preggers!
Was so excited when these came in! These really do " hold you in and give a lot of support to your bump while you bounce around in an exercise class. Getting through my Jazzercise classes is so much more comfortable with these. I ended keeping these on all day long because they made me feel so good! They washed beautifully, but read tag carefully. They are not to be put in dryer as the support bonding will come apart so f you do! Worth every penny for any very active mom's with a bump!
10/26/2021
Brittney D.

United States
Amazing Customer Service !
I've been so impressed with Glowe's product and customer service, I had to exchange sizes and had a trip coming up they rushed the new size out to me and were so nice about it all! These are really well made and supportive to my growing bump. As someone who has had lots of pelvic and hip pain I'm already noticing a difference :)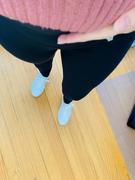 10/25/2021
Jennifer R.

United States
Very comfortable
Really comfortable and stretchy. I'm kind of between a small and medium in other brands, so I ordered a medium first (thinking my legs have been filling out a little more in early pregnancy) but it was too big. Legs were tight enough but the waist was sagging and not providing the back support that I bought them for. I returned the medium and got a small and they fit perfectly! I was worried at first because the first time on they felt a little tight, but when I put them on the next day (and after every washing since then) they fit perfectly. Held in without being too tight. I like the smooth, kind of shiny look. I think they are nice to dress up (almost like a faux leather or something).
10/16/2021
Lauren W.

United States
For every stage of pregnancy!
I LOVE these leggings. I wear them constantly. I initially bought them at 22 weeks pregnant. For me, I was at a stage where pants weren't comfortable and I hadn't quite popped yet. At that time, I was 145 lbs. I'm currently 25 weeks pregnant and 153 lbs. I am 5'3". I see myself wearing these through the pregnancy, during postpartum, and well after by simply folding the band down.
10/16/2021
Jennifer K.

United States
The only maternity leggings I'll wear now!
I was skeptical at first since I have tried loads of other maternity leggings but my back pain made me desperate enough to try another one and now these are the only ones I'll wear!! I was shocked at how much it helped my lower back pain and helps provide a little lift to my bump, especially since I'm carrying a bit lower with my 2nd pregnancy. And they're so soft! I'm only bummed I didn't find out about these sooner!! I wear the shorts every single day, even under jeans and will be ordering more soon. Thanks Glowe for providing some much needed support!!!