Customer Reviews
07/29/2021
Daphney K.

United States
07/18/2021
Vania B.

United States
Flattering and comfortable
Love these leggings- breathable and silky even in this crazy humid summer we are having in the northeast, yet still supportive and figure flattering. These leggings were the one thing that still made me feel sexy as my body was changing. I got a size small- my usual size- and am currently in my second trimester at 146 pounds. Was worried they were too tight at first but they definitely grow with you as mentioned and I am glad I got the small. The picture I have here is after washing it on cold and laying flat to dry. I want the bike shorts next!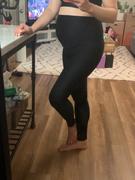 07/14/2021
Mary C.

United States
Great workout leggings
Great high-quality workout leggings, in terms of non-maternity brands I think they are most similar to my P.E. Nation leggings, just a little stretchier, which is a compliment! I'm 15 weeks and am wearing these leggings for workouts (yoga, barre, cardio). I find them a little tight for lounging, but I doubt they would be good for working out if they were lounge leggings. Very happy with this purchase and looking forward to wearing them in the upcoming weeks!
RM
07/14/2021
Rachel M.

United States
Pretty great
These are the level of stretchy and opaque you wish all your leggings were, and they are perfect for that akward can't-fit-in-normal-clothes-but-not-ready-for-maternity-stuff phase. There's a waist-high defined spot (maybe for folding over the waist when you're not preggers) that sorta gives my bump a little muffin top, but I think as my belly gets bigger and firmer, it wont be noticeable.
Hi Rachel, Thanks for the feedback & review! Yes, you can fold over the waistband to alleviate that issue which is also how we'd advise to wear them for extra back support when you are postpartum. Cheers! #TeamGlowe
06/21/2021
Susana V.

United States
Great investment!
The GLOWE Maternity Legging 28" is my favorite maternity item! I didn't want to buy many maternity clothes and the legging is so versatile because it changes as your body changes, so the adaptability helps you save in the long run. I love the material, quality and innovative design ans loos so cute on my body! Highly recommended it.