Customer Reviews
09/25/2021
Christina C.

United States
The best maternity leggings I have found!
I really enjoy my Glowe leggings! I contemplated buying these for a while since they are a bit pricey but after buying a pair from another brand that are very tight and uncomfortable (the opposite of what I'm looking for right now!) I decided to try these and they feel so good! The material feels great and is really nice quality. They fit really well and give my belly the appropriate amount of support. They also arrived very fast and customer service was really helpful!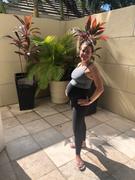 09/04/2021
Christine W.

United States
I should have bought these sooner!
Honestly, I wear these everyday except when they are in the laundry. So comfortable, supportive, light weight. I'm getting the shorts next for sure! I got these around 20 weeks (I am 27 now) and they have been great for staying active and going to the gym, or going to work.
08/31/2021
Aria R.

United States
The support! Omg!
I'm just getting into my second trimester (16 weeks or so) and my lower back has been aching constantly. I put these on and felt immediate relief. They're never coming off. I am typically an XL/12 but I'm glad I looked at the size chart and ordered a L. I don't think I'd get the compression with a bigger size.
08/23/2021
Jennifer M.

United States
Great for my first pair of maternity leggings!
I'm in month 4 of my pregnancy, the awkward part where nothing from before really fits. But I still find most maternity leggings to be sort of baggy. These are perfect in that they are comfortable, but seem like they'll grow with me!
08/12/2021
Audrey G.

United States
So much support!
Love these leggings! So comfortable with just the right amount of support but not too much that you feel squeezed into them. Love the back support. The legs are a little long on myself but it looks like that could be altered if wanted. I however love the longer length!