Customer Reviews
12/04/2021
Laura N.

United States
Almost perfect
These feel great and really supportive for my belly at 5 months. I've been wearing them under lighter pants for warmth and support. Your pre pregnancy size should work! My only issue is that there is a seam that cuts across the belly. I would feel more confident wearing tighter shirts over them or leggings alone if they were seamless across the belly.
11/24/2021
Amy W.

United States
Super buttery soft with support
I am 30 weeks pregnant and having back pains. I was so glad to find these leggings on IG - they're wonderful - buttery soft, stretchy, and best of all provides support. They're super comfy and snap back into shape when you're not wearing them. They're my go to pants now.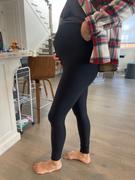 11/17/2021
Maria B.

United States
Wish I found these earlier
These leggings gave me my life back the last few weeks of my pregnancy providing me with relief from chronic back pain and of course a growing belly. I wish I found these earlier! Thank you Glowe for a great product.
11/13/2021
Kelly H.

United States
So good
I was hesitant about the price but these are worth it for the pain relief they provide! I'm usually a large but got a medium and they fit perfect, supporting my bump/back/ and pelvis as I'm entering the 3rd trimester. Definitely getting another pair and i'm excited to see how they hold up postpartum!
11/09/2021
Elle W.

United States
First Maternity Item I have LOVED
Working out was a huge part of my life before I was pregnant, and now that I am pregnant its has been getting me through. Now that I am starting to show I needed a more supportive comfortable legging.. I am so happy i found glowe! I love the pair i got and intend to buy a few more pairs!