Customer Reviews
08/21/2022
Katia S.

United States
Supportive non-strangling, love them!
I'm 7 months pregnant, 160 lbs and 5'10". I'm overall more comfortable when I have these or the shorts on because of the subtle compression and meaningful belly and back support they both offer. It's August in LA , but these are like are breathable like a second skin.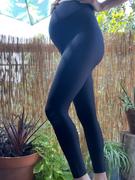 05/02/2022
Makenna

United States
My ONE pair for a LIFETIME!
I am 19 +1 today, and want to share one of the most important things in my pregnancy journey - maternity/not JUST maternity leggings and biker shorts!!! These help with pelvic and back support, which this gal struggles with a lot, especially during the beginning of getting pregnant. I have always had back pain, specifically lower back because I was born with a hip about a half-inch to an inch off from its other. I have never done anything about it until I got pregnant, because the pain worsened with baby! I have been so frustrated with what to wear because I quickly felt lower belly discomfort and having bottoms on is so uncomfortable. I have never owned leggings, as they are not pants, nor modest as a Christian woman, unless with an oversized tee. I was extremely skeptical, but had come across this brand and instantly there was a lightbulb that went off! I trusted them, even though I wasn't sure how they would actually fit on my body personally. They are not shear in any way, and literally I want to wear them to bed after wearing them all day! This is a small company, with a passion of two mamas who knew no other company out there could give them what they wanted, so, they created it themselves! ‍♀️ These leggings and biker shorts are meant to be purchased in your pre-pregnancy size, and will fit all throughout your pregnancy, your postpartum body and when you are not pregnant - ONE pair for a LIFETIME! These are no joke, and I definitely recommend to ANY female, whether struggling with pelvic or back pain in general or not, and specifically any woman who is already a mama or planning a pregnancy soon! I initially got an XS because the size chart showed that's what I would be, but on top of gaining pregnancy weight, I have been gaining HEALTHY weight from us taking better care of the way we live and eat(I'm literally doubled in expected pregnancy weight gain, and I LOVE it!), so I got a small, and they. fit. PERFECT! Thank you so much to Glowe!!!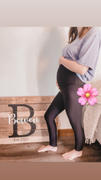 04/05/2022
Kathryn R.

United States
Great back support
I love this legging, it's tight enough to hold your uterus in and support your back. My only wish is that it had a phone pocket on the side
03/20/2022
Lara M.

United States
Wear these leggings everyday!
I have had horrible pelvic pressure this pregnancy. There's leggings have helped give me support to be able to function daily! I love them!
03/09/2022
JOHN P.

United States
Best Maternity Gift EVER!
This is the 2nd pair I have gifted to a friend who is pregnant and she cannot stop raving about them! This will be my go-to for all of my pregnant friends go forward for sure.