Customer Reviews
11/10/2023
Maryntia A.

United States
Fit like a glove
I gotta say I am very satisfied with these leggings. It's been a struggle to find leggings that don't slide down and after wasting money on several that didn't work out these are worth it! I pretty much live in them now, I just wish they had pockets. They are super soft and smooth. I am 23 weeks, 5'4" weigh about 160 and I got a Medium, fits great!
10/05/2023
LeAnne K.

United States
Comfortable Leggings
I bought these for my 6 month pregnant daughter. She has worn them multiple times a week, so much so that she will probably be getting another pair soon! They are very supportive of her back without being too tight on her baby bump. And it's good to know she can use them after delivery, too.
09/18/2023
Chelsey K.

United States
LOVE these leggings!
One of the reasons that I adore this product is the support for my low back! I highly recommend this product to anyone who is pregnant or postpartum.
09/13/2023
Shoshana G.

United States
Best kept secret - this leggings rock
I am obsessed with these maternity leggings. They are so comfortable and supportive - amazing material that can withstand sweaty workouts and likewise the material has a little sheen to it and thus they can be dressed up with a nice blouse and work equally well for work or night out leggings. The fit is perfect and they hold my growing bump comfortably. I can also tell that these will hold up and can be worn well past my delivery date. I love them!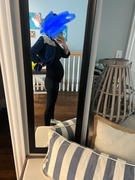 08/04/2023
Mary S.

United States
Love these pants!
I waited for these leggings to come back in stock and am so glad I did. They are so comfortable and flattering too! I am currently undergoing ivf treatments and love how much support they give my fluctuating belly. I know they are going to be perfect for pregnancy and beyond.